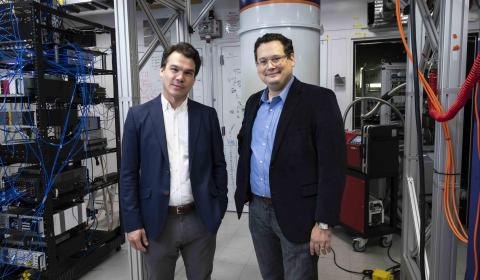 To continue solidifying Pittsburgh's status as a leader in quantum information science and engineering, the University of Pittsburgh, Carnegie Mellon University (CMU) and Duquesne University today jointly announced the appointment of Benjamin Hunt, associate professor of physics at Carnegie Mellon, to the newly created role of co-director for the Pittsburgh Quantum Institute (PQI).
Hunt joins his longtime Pitt collaborator Michael Hatridge, an associate professor of physics in the Kenneth P. Dietrich School of Arts and Sciences, who was appointed to PQI leadership earlier this year.
"We're excited to welcome Ben to the PQI team," said Hatridge, who also runs the Hatlab, one of the shared Pitt facilities for PQI members. "As co-director, I look forward to working alongside Ben to strengthen this enhanced partnership between our schools in furthering quantum research and education throughout our region and attracting government and industry leaders to partner with PQI."
"Through the PQI, we are poised to become leaders in quantum information science and engineering," said Rob Cunningham, Pitt's vice chancellor for research infrastructure and PQI's deputy director. "Reaching that goal will require tighter collaborations and alignment of Pitt and CMU across multiple departments and disciplines. Establishing the co-director positions is an important step toward having significant impact."
The PQI was founded in 2012 to advance research, education and training in quantum information science and engineering in the region.
As co-directors, Hatridge and Hunt will provide strategic direction, oversee PQI's research programs, foster collaborations with industry and government partners, and further the education and training of the next generation of quantum scientists. As Hatridge noted earlier this year, "Quantum science and technology have the potential to revolutionize various fields, from computing and communication to sensing and materials science."
Hunt is an experimental condensed matter physicist whose research focuses on two dimensional materials. "I'm interested in how the characteristics of these materials could be harnessed for things like improvements in the circuits that process quantum information," Hunt said.
"I am thrilled to be moving our efforts in quantum forward in the Pittsburgh region," said Curtis A. Meyer, interim dean of the Mellon College of Science at Carnegie Mellon. "While there have been a substantial number of efforts scattered in both Carnegie Mellon and Pitt, having joint CMU/Pitt leadership of the Pittsburgh Quantum Institute will allow us to solidify and strengthen these efforts in a coherent manner that will benefit not only our universities, but the region as a whole."
The co-directors say the team is already exploring new approaches to broader collaborations, with multiple medium-sized, targeted workshops to explore particular problems and challenges in quantum information science and engineering. The first of those focused on bringing together quantum theorists from the region and included faculty from Pitt, Carnegie Mellon, Duquesne, West Virginia University, Penn State and Ohio State University.
From Pittwire